With the community
Working towards a better society and community together with Kawaguchi City
The predecessor of Comomg was a local factory in Kawaguchi which made wooden molds for casting. Naturally, the mindset and spirit of Kawaguchi, a city known for its manufacturing, is alive within us. We hope to pass this passion for manufacturing and creating on to the next generation, and together with Kawaguchi City, aim to build a better society and environment.
Specialty Souvenir in Kawaguchi: Donguri Korokoro
A traditional Japanese top known as beigoma, which is famous in Kawaguchi, was born from casting. Like the beigoma toy, Donguri Korokoro was also created from the same wooden mold, and the techniques and mindset cultivated in the wooden molds are incorporated into making this small toy. Rather than children growing up and feeling as if there is nothing special about their town, we want them to grow up feeling proud of the fact that they are from a town which is responsible for producing a well-known product. Here at Comomg, we not only hope to create wooden toys that will eventually become Kawaguchi City's special souvenir, but also toys that children are excited to hold in their hands. Ultimately, our goal is to create the latest traditional toys and make it well-known throughout the world.
Donguri Korokoro has received many awards and certifications, namely the NIPPON OMIYAGE Award, the Recommended Kawaguchi Souvenir list, the Kawaguchi I-MONO Brand, and the GOOD TOY Award.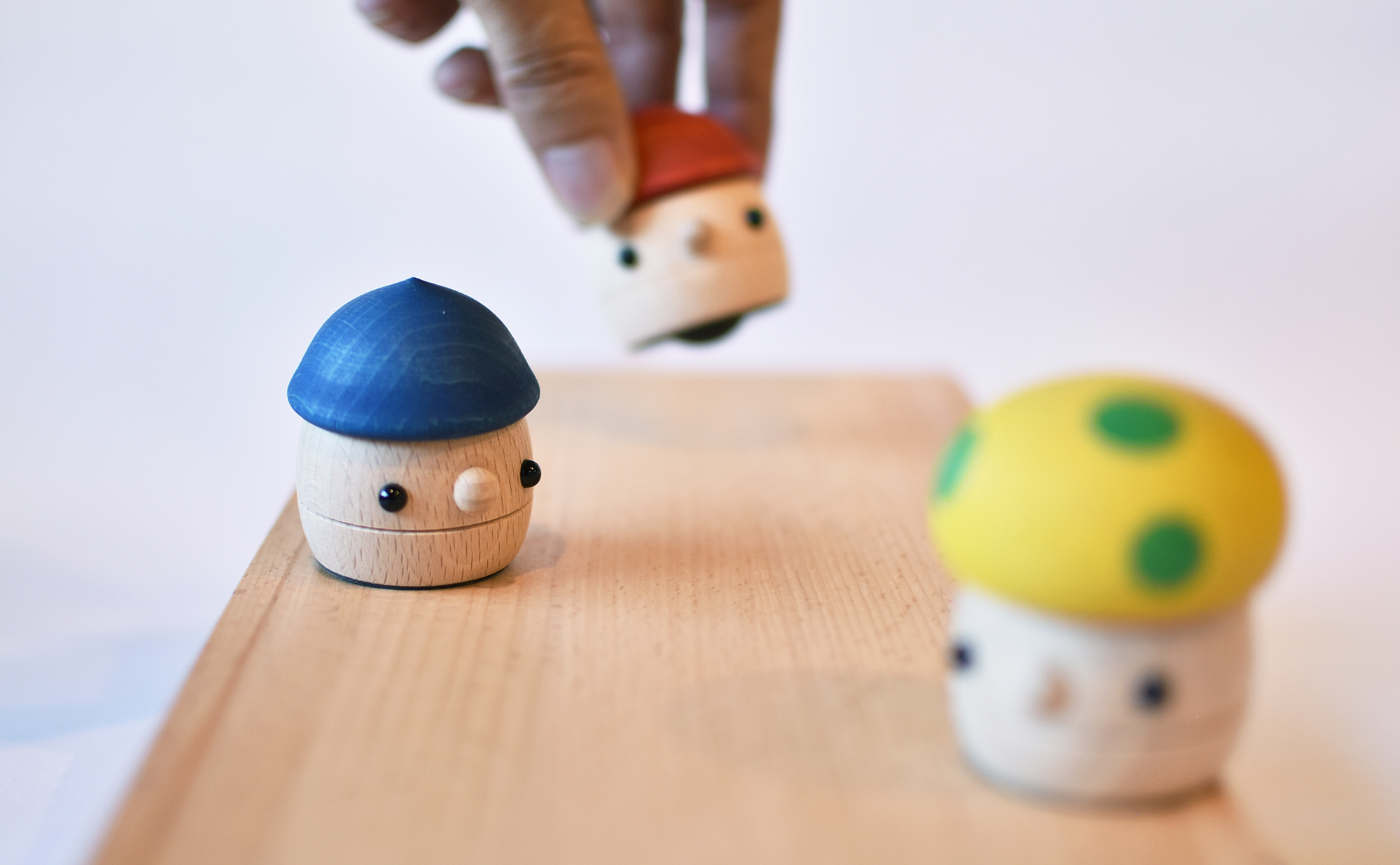 Passing on the Joy of Manufacturing
In the past, Kawaguchi was full of factories, and people's livelihood were closely intertwined with manufacturing. You were able to hear the sounds and smell the factories, and if you looked into the windows, you would be able to see craftsmen hard at work. Although times have changed, and things are not the same as in the past, Comomg's factory is always open to the public so that people can see the production process. With this, we hope to bring manufacturing closer to the lives of people.
The windows of the store, which is attached to the factory, allow visitors to look inside the factory and see the techniques used by craftsmen manufacturing the products. During factory tours, our creators will be available to interact with participants and explain the machines and their functions.
We also hold workshops at the factory on a regular basis to teach local children about the fun of woodworking and importance of manufacturing by teaching them how to make wooden toys.
By holding classes in high schools to educate students on the fun and meaning of work, we are working to pave a path for manufacturing as an option for the next generation of young people.
"Machi no Ki" Project
We develop products using wood that would otherwise be discarded in the local area in Kawaguchi. Although the forestry industry does not exist in Kawaguchi, a large amount of standing trees and various other small trees are cut down daily, and we use this wood to develop and manufacture products. Priority is given to distributing products made from wood from the city since we value not only the global but also local products. Comomg is working to build an economic cycle in the local industry from raw materials to manufacturing, and finally, to consumption.